Advice on Lawyers for Madoff Victims
By Eric Rosenberg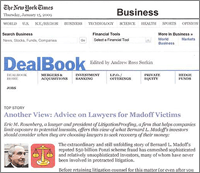 The extraordinary and still unfolding story of the $50 billion Madoff fraud has enmeshed sophisticated and relatively unsophisticated investors, many of whom have never previously been involved in protracted litigation. Before retaining litigation counsel for this matter (or even after you have signed up with an attorney) there are a number of important considerations for investors to evaluate in choosing counsel, negotiating the retainer agreement, reviewing billing and progress in the case, and deciding if you should pursue claims against others. More...

New York Times DealBook Top Story January 15th, 2009


---
"Think Before You Send"—New Prize-winning Online Course Available for License To Help Prevent E-mail Disasters
October 4, 2006 — LitigationProofing, LLC and Interactive Employment Training Inc (IET), a leader in online training about workplace issues, have received a Top Training Product for 2006 award from Human Resource Executive magazine for their new joint release: "Think Before You Send: A Practical Guide to E-Mail in the Workplace." As an alternative to LitigationProofing in-person training sessions, in about 35 minutes this online course helps employees avoid the e-mail miscues that may lead to financial losses, bruised reputations and employment terminations. The magazine praised this course as "the first we�ve seen addressing such a comprehensive array of false assumptions about e-mail that are common in the workplace," and concluded that "this program is an efficient and consistent way to sensitize [employees] to appropriate e-mail practices."
» Take Short Online Demo
» More Information


LitigationProofing LLC helps companies minimize exposure to potential lawsuits by delivering effective employee training on best practices in the creation and use of electronic communications, document retention, and working with counsel. We have all seen headlines about the effect of mindless e-mails and document retention foul-ups on liability in high profile cases. How certain are you that your employees aren't making similar mistakes?

Attorney Eric M. Rosenberg, an experienced litigation manager educated at Yale, Columbia and Harvard, founded LitigationProofing to fill the business world's need for quality training on these crucial issues. LitigationProofing can help keep your firm from drowning in the current flood of litigation expense and liability.

A LitigationProofing training session will be cost-effective, content-rich, and highly-rated by your employees. LitigationProofing will also help satisfy company obligations under the Sarbanes-Oxley Act and corporate prosecution and sentencing guidelines.

» For more details on the program, see Services

---



A warning before you Twitter
By David Janowski
June 21, 2009

Finra's rules about content apply, so adviser tweeting is a compliance nightmare...

"...As part of their business, broker-dealers and their representatives cannot use Twitter because there is no technique for retaining it and supervising it," said Eric M. Rosenberg, an attorney and president of Litigation Proofing LLC, a consulting firm in Mamaroneck, N.Y... » More


OFFICE SPACE: CAREER COUCH; E-Mail in Haste, Panic at Leisure
By MATT VILLANO
September 3, 2006
"Many e-mail programs include an addressing function called AutoComplete that suggests recipients based on names in a user's address book. When the sender starts typing a name in the 'To' field, the software automatically fills in the first alphabetical match.

But Eric M. Rosenberg, president of LitigationProofing, a liability consulting firm in Mamaroneck, N.Y., says the software's suggestion is not always the sender's intended recipient.

'We tend to address e-mail with the same attention we give to driving while talking on the cellphone,' Mr. Rosenberg said. 'In many cases this can lead to disaster.'" » More


You Got Nailed: E-Mail Probe Nets Messy Merrill a $2.5 M Fine
On March 13, 2006 the SEC announced that by consent it had entered a cease and desist order and fined Merrill Lynch $2.5 million for failing properly to archive and produce e-mails in timely manner when requested by the Commission. The NY Post's coverage of the SEC discipline of Merrill included a comment from LitigationProofing: "The fine and order were clear messages 'to Merrill and other firms to upgrade their archiving systems immediately,' said LitigationProofing's Eric Rosenberg, a former Merrill attorney and document-retention expert.'" » More


The Seven Deadly Sins of Electronic Communications
"Everywhere you look email is in the news, with many companies large and small getting into deep trouble because of it. And while email and other electronic communications like instant messaging are not inherently bad, their inappropriate use has tarnished many companies' images in the media and led to numerous legal problems that could easily have been avoided. Identifying potential pitfalls and taking concrete steps to prevent them can help employers save embarrassment, time and money." » More


Eric Rosenberg Interviewed on CNN 1240 Radio
January 18, 2006
Listen to the Interview


Interview with Eric Rosenberg, LitgationProofing, LLC
"It's amazing how people will write things that they just...don't have a concept of how it looks to their mother, to the newspapers. You know, probably one of the more famous ones came out of the Spitzer investigation of a brokerage firm where the analyst wrote, "This stock is a powder keg, given how aggressive we were on it earlier this year, and given the 'bad smell' comment that so many institutions are bringing up." » More


Morgan Stanley case highlights e-mail perils
"The $1.45 billion judgement against Morgan Stanley for deceiving billionaire Ronald Perelman over a business deal has a lesson all companies should learn — keeping e-mails is now a must, experts say." » More


Control of digital data roils attorneys
"And then there's e-mail, which is described by many lawyers as the hottest area of litigation. Companies and attorneys are at war over what a business must do to produce e-mail records, and who is going to pay for it." » More



The "E-mail of the Month" award goes to nationally recognized expert on adult illiteracy and former Executive Director of Literacy Partners, Jon Deveaux.
» Read the "Email of the Month"